We develop data-driven strategies and tools to align our customers' processes, products and communications with real market conditions and user needs. Instead of making assumptions, we rely on artificial intelligence and data-based facts.
We open the door to the new world of AI-based customer journey analytics.
Explore our AI – toolbox for digital marketing & e-commerce: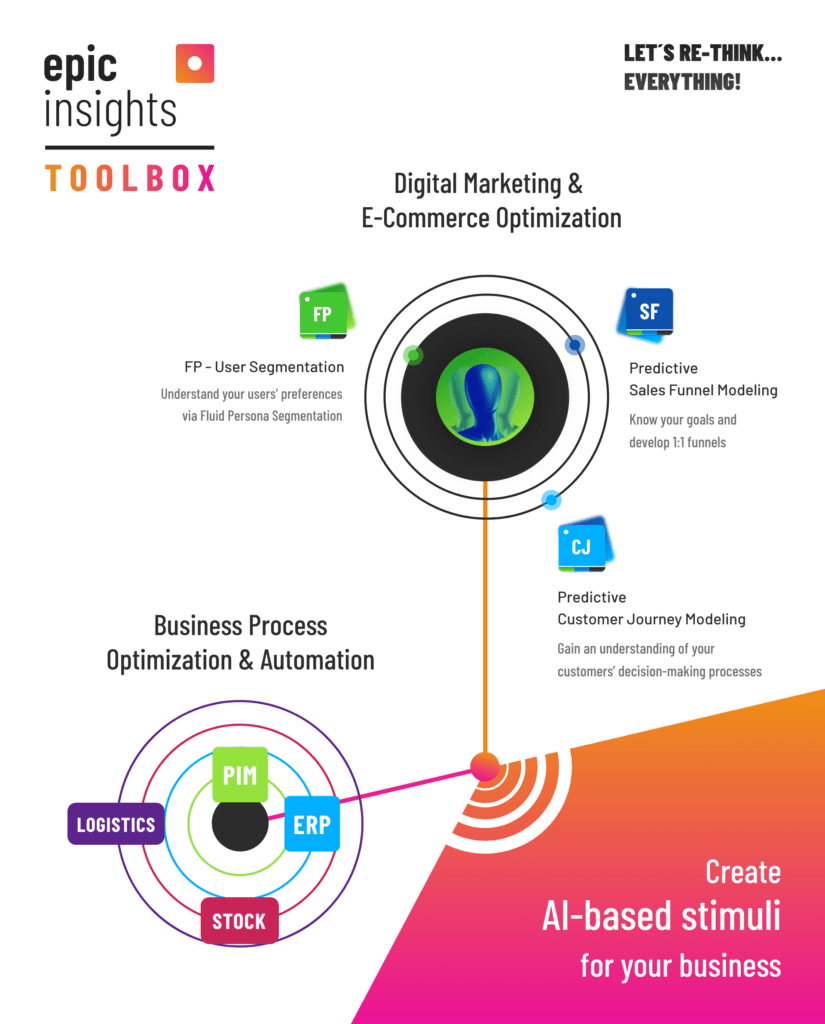 Fluid Personas are the AI-based foundation of our toolbox.
Fluid personas are not static, abstract target groups. Fluid personas are based on dynamically clustered behavior patterns of user groups and form the data basis for our toolbox applications. From dynamic user segmentation, to far-reaching analysis of buying behavior, to analysis of the entire Buyer Decision Journey – whether B2B customer, agency or B2C online store – our toolbox can be flexibly tailored to each customer's individual requirements.

Epicinsights AI Business Consulting
Together with our customers, we discover the hidden stories in their data and generate real business impact from it.
After more than 100 successful AI projects, we know many internal and external barriers that need to be overcome when introducing AI-based technologies. We can help you identify and successfully overcome them.
Our interdisciplinary team has extensive expertise in AI application development and AI business consulting.
AI-based optimization of operations and business processes at…
Production and maintenance processes in the manufacturing sector
Forecasts for purchasing and sales processes
Process control in media buying
Optimization of logistics processes
Impact analyses and simulations in the transport sector